MCLA's, Maureen Moran and Abby Camacho, are presenting at this year's
IALD Enlighten Americas 2014 conference in San Diego, CA.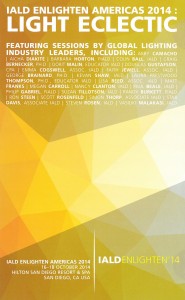 "The Future of Architectural Lighting Design as a Profession"
The presentation will study related industries –

architecture, engineering, and manufacturing – to show how lighting design as a profession may evolve in the next 5 years, 10 years, or 15+ years. This will include graphic charts, diagrams, and images with analysis and descriptions. Our target audience ranges from entry-level to senior-level designers, who are interested in learning about history and future trends and how these can be applied to lighting design today.
For More Details please visit: http://www.iald.org/about/events/IALDEnlightenAmericas2014.asp