Three of MCLA's projects were featured on the cover of the January 3, 2014 of the Washington Business Journal, under "HOPE vs. HYPE: Looking Ahead to 2014." MCLA is definitely looking forward to 2014. More about CityCenterDC and Marriott Marquis at this week's Washington Business Journal (TopShelf, p.6 in the print edition) and 1812 North Moore (Breaking Ground, p.14 in the print edition).
Rendering of the Marriott Marquis (top photo), located next to the DC Convention Center
Image Courtesy of BBG-BBGM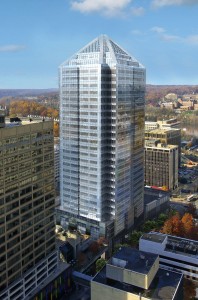 Rendering of the 1812 North Moore Street Office Building,
located in the Rosslyn neighborhood of Arlington, Virginia
Image Courtesy of Davis Carter Scott  
MCLA looks forward to sharing more as these projects progress. Happy New Year!